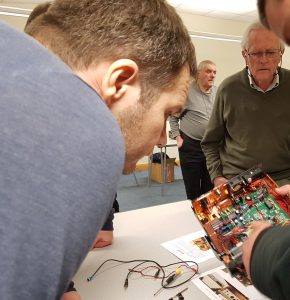 We had a great turnout from members to see the projects that other members had built over the last year. We had seven entries spanning four categories and the judging was performed by M1DST, James who didn't enter anything this year but is a keen builder.
James visited each project and talked in detail with the builder to gain further insight into the complexity of the project. Every entry had some kind of unique twist and the standard was very good.
Scoring was made and at the end of the evening the entrants were waiting to find out who had won in each category.  A summary of the entries and the winners is available at the end of this post.  A short video of the projects is below.
Thanks again to all the builders who provided their projects for scrutiny. Hope you enter more projects next year.
Hybrid
2E0XRB – BitX 40m receiver – WINNER!
Antenna
M1KDJ – 2M Yagi (6 element) – WINNER!
M1CJE – 2M Yagi (2 element)
Homebrew
M1CJE – 10MHz reference and NTP server – WINNER!
M0OSM – Brass CW paddle
Kit
M0OSM – QRPlabs QCX – WINNER!
G4AJA – FM Broadcast Receiver