Worked All UK/EI Locators (2018)
An extended-period SDARC-Members-only Award Scheme to encourage on-air operating, to have some competitive fun playing radio, to raise the profile of SDARC on the air and to reward members making consistent use of their radio gear. Go on…. THIS year, have a go !!
If you have a short contest call and work some squares you MUST log the QSO on this site with your main station callsign and NOT your SCC.
Please be aware that it can take a minute or so for your QSOs to appear in the league table. Please do not worry.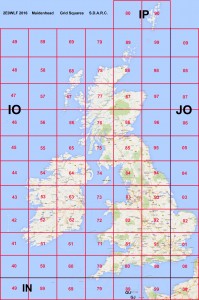 Rules
Open to current licensed members of SDARC, using your own Call Sign (SCCs are acceptable).
Your Aim is to work as many UK/EI QRA Squares as you can during the Award period.
ALL Squares shown in the Progress Table available on the Club website are valid.

The term "Squares" refers to the VHF-familiar Maidenhead Locator Squares system that involves (for practical day-to-day use) 2 letters + 2 numbers + 2 letters. Eg Pinetrees is IO91RF.
For the 2018 Award, we need only the 1st 4 characters (eg IO91)

Work stations normally, aiming to discover their QRA (eg IO91) -There are ~53 of them!
Explain to stations worked about the SDARC Club Members' Award.
You can use ANY Mode… Phone, CW or Data.
Your TX Power is determined by your licence:

Foundation Only: 10w
Intermediate Only: 50w
Full Only: 100W
Full Only: 400W

Direct contacts only… no repeaters, satellites or Echolink/ Internet contacts.
QSOs may be made from 1 Feb to 30 Nov 2018.
The Award is divided into 3 periods:

Period 1: (Feb, Mar, Apr,)
Period 2: (May, Jun, Jul, Aug)
Period 3: (Sep, Oct, Nov)

You can enter all or any combination of the 3 periods.
Each period focuses on separate amateur bands:

Period 1: LF (160m,80m, 40m, 30m);
Period 2: VHF (6m, 4m, 2m and cm bands);
Period 3: HF (20m, 17m, 15m, 12m, 10m)
You may operate from anywhere within 25 miles of your licensed address. (ie: home, /P , /M or /A)
Your transmitter & antenna that put the RF into the air must be within 25 miles of your QTHR.
Each square worked counts ONE point in each period
Enter all new Squares using the online form at SDARC.net Just copy details from your shack log.
Use a new form for each period (the web form will clear after judging previous period)
Finalise your entries for each period by these dates:

Period 1: May 7th;
Period 2: September 7th;
Period 3: December 5th
QSOs will not normally need validating but Judges reserve the right to request confirmation.
The Judges' decision in all matters is final.
Results
The on-line table at SDARC.net will show progress during each period.
Awards will be presented at the Club Christmas Dinner.
By entering, you agree that Results may be sent to Radcom & the SDARC website.
Awards
There will be 3 Winners' Awards for each Period (no year-wide winners in 2018)
the highest number of Squares worked Feb-Apr on LF (160m,80m, 40m, 30m)
the highest number of Squares worked May-Aug on VHF (6m, 4m, 2m and cm bands)
the highest number of Squares collected Sept-Nov on HF (20m, 17m, 15m, 12m, 10m)
Remember to tell stations you contact about the SDARC UK Postcodes Award.  …It raises the profile of SDARC on the air!  Happy Hunting! Good Luck!
Useful Files / Websites
League Table
Period 1 Breakdown
Period 2 Breakdown
Period 3 Breakdown